The Highland's largest climbing gym and a National Bouldering and Performance Centre built on the foundations of community, inclusivity and positivity.
More than just a climbing wall, The Ledge is a registered Scottish charity dedicated to changing lives for the better via the medium of climbing.
Here at The Ledge, we believe that climbing is more than just an activity – it's a shared experience. It's about reaching up and reaching out to everyone in a fun and supportive space designed to help folks identify and achieve their goals. 
Whether you are an aspiring Olympian, or just starting out on your climbing journey, we can't wait to welcome you at The Ledge.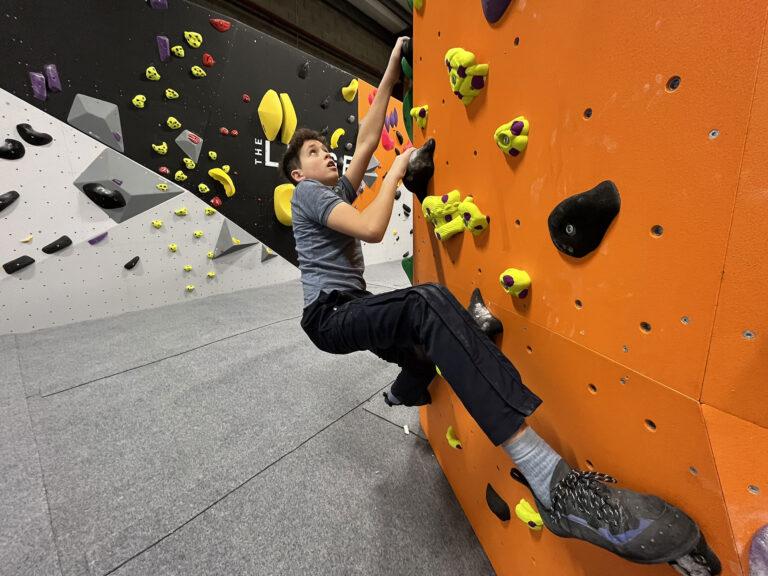 1000m2 total climbing area
Over 700m2 of pure bouldering walls, including a replica Paris 2024 Olympic Competition wall
50+ lead and top rope routes equipped with autobelays
Dedicated kids/novice climbers area with autobelays, roped climbs and low level bouldering
Training space with Digital Training Boards, an infinity circuit board, large campus board and dedicated fingerboard station NICAS courses offering structured development pathways for young climbers in a group and game-based environment
'Vertical Living' social impact programmes to help those struggling with adversity to find purpose, community and experience the positive mental and physical benefits of climbing
Youth and kid-focused programming designed to build confidence, diverse skill sets, teamwork and resilience
Specialist courses including autobelay intros, learning to lead, belay and movement techniques, getting comfortable with falling, women's-only groups, and more 100m2 yoga and fitness studio
Climbing and adventure sport-specific group fitness and yoga classes
Strength and conditioning gym with lifting platforms, dumbbells, kettlebells, Concept cardio machines and cable stations
Dedicated physio and rehab space
Redpoint Kitchen café – serving locally sourced food, exceptional coffee and après workout beers from local craft breweries
Alpkit – the Highland home of the award-winning outdoor and bike brand born out of a passion for the outdoors
The Bolt – our specialist climbing shop selling climbing shoes and hardware to facilitate your vertical adventures
Party time – kids parties, corporate team building, youth groups…our climbing parties are perfect for groups of all kinds looking for something different, fun, exciting and memorable to do together!
Let's get you where you want to go – ie climbing! Here's a selection of popular pages that should help you find what you're looking for.
Sign up for all the latest chat from The Ledge
Enter your email address to receive news on upcoming promotions, events, classes, and other updates.